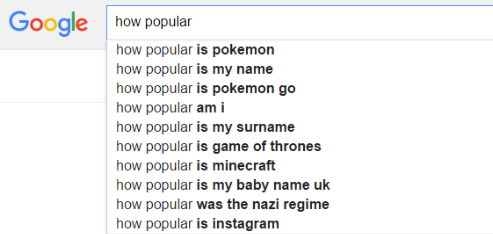 The new thing is Pokemon GO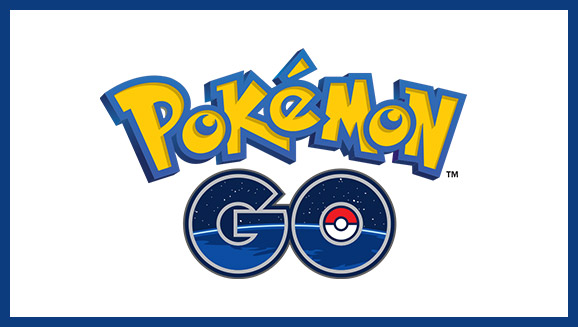 As a content marketer it is something you need to know about, because so many people are playing it and seeking information online. It is creating a massive, rabid crowd that will devour content. Whenever these trends explode and reach critical mass there is huge opportunity for anyone who uses content creation to market their brand or business online.
What is Pokemon Go?
It's an app you download to an iPhone or Android and uses augmented reality to direct you to places in the real world, via a map to collect stuff.
How much does it cost?
Pokemon Go is free
How does Nintendo make money from this?
It's share price has risen during the first week of its release, increasing the value by $7.5 billion. It also has access to a huge amount of personal data.
Is it available in the UK?
No, as we publish there is no time soon that Nintendo is planning to launch in the UK. As of now, the app is only officially available in the US, Australia, and New Zealand
How popular is this?
Google trends show it's as nearly as popular as sex. Interest in the keywords of Pokemon Go, sex, Tindr and Snapchat, over the past 30 days.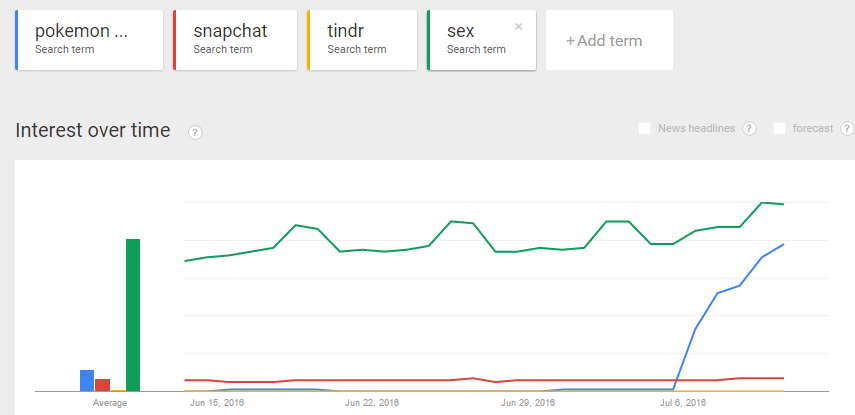 When you type in "How popular…" Google suggests puts Pokemon first and Pokemon Go, 3rd.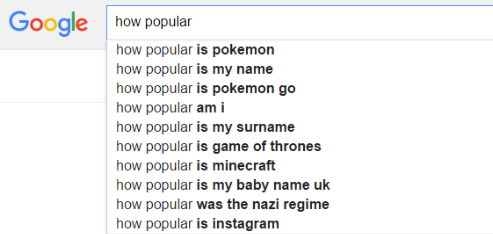 This from Forbes.
The data gets even more staggering. As of 48 hours ago,Pokemon GO was installed on 5.6% of all Android devices in the United States, and is installed on more Android phones than Tinder (insert "Pokemon is now more popular than sex" joke here). Not only that, but on average users are spending twice the amount of time engaged with Pokemon GO than they are on apps like Snapchat.
Can Pokemon create bad headlines?
Primal brain headlines have already been created such as "Pokemon Go player finds dead body in Wyoming river while searching for a Pokestop" Expect more of this as the media generates headlines to surf the wave of interest in this subject.
How nuts are people for this?
Anecdotal evidence suggests, "very". Whilst your wife is giving birth to your child, a Pokemon shows up and you have to low key catch it….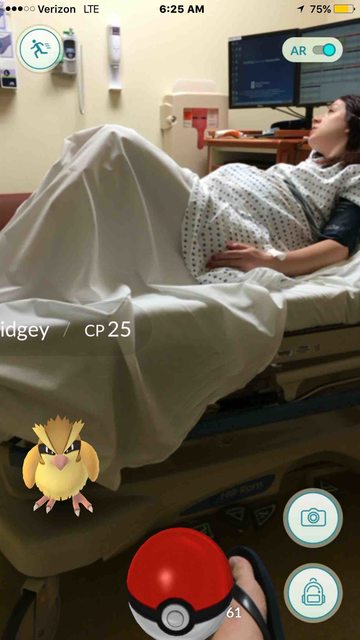 Can local business take advantage of this?
Yes.
This is big and not to be ignored because you think this is silly.
Whenever something such as this becomes this popular, if you are ahead of the curve you can create attention grabbing content and improve your brand.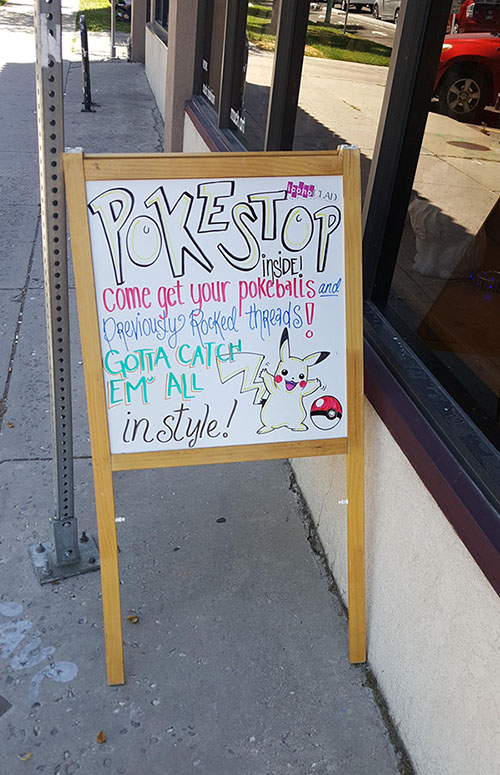 This may do little for passing trade but this image is being used by high authority news sites. Sometimes it's not about what the thing actually does, but about the sizzle you can create around it.
Even museums can use Pokemon Go to help them, when this museum found Pokemon and Pokestops all over their location, they took screen shots to use in their content marketing.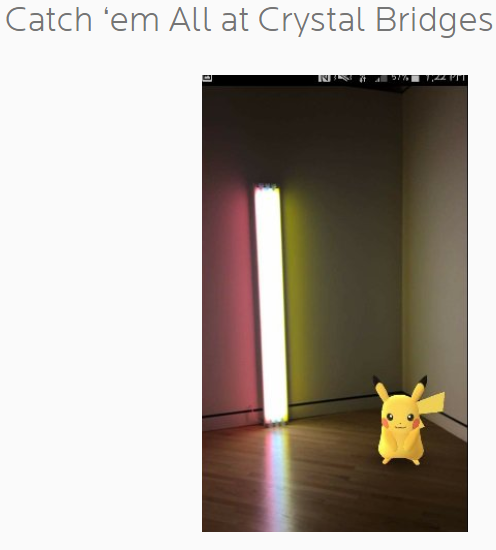 Your business may become a Pokemon stop, if this is the case you can create a Lure module to attract other players, this lasts for 30 mins and can be advertised on your Facebook or other social media page.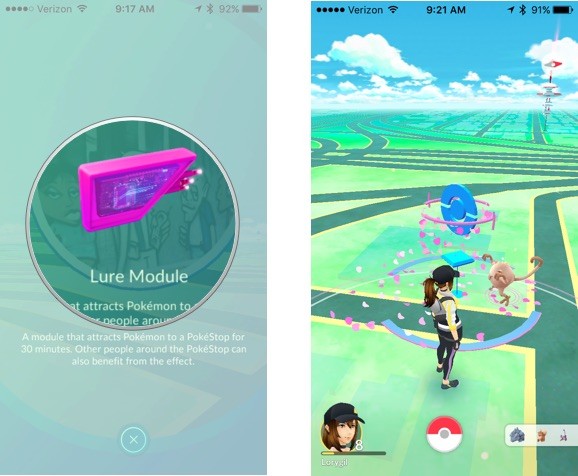 This aspect is a fast moving part of the game and more and more ways of local business taking advantage of Pokemon Go are coming to the surface as I type.
This is a fast moving story, as more people use it and they are already using it in number that are making Snapchat look, "megh", it will be something which could potentially create massive returns for a clever content marketer.
Updates will be blogged about and sent out over the email list.
Get in contact if you need more ideas of how to use Pokemon Go to make your business message sizzle.
****UPDATE 1****
SEO consultant sacked in Singapore for complaining about the unavailability of the game in that region. Via Chris Gilchrist
Some people are so desperate to play this game they are employing a hack.
UK rollout of Pokémon Go delayed – here's how to get it on iPhone and Android now – Guardian
Pokémon Go: armed robbers use mobile game to lure players into trap – Guardian
Intriguing response from a Dad: "I Don't Understand Pokemon Go, But I Give It Five Stars For Getting My Dumb Son Out Of The House"
Although some of this may be made up, but even made up stuff is getting shares due to the intense interest of the story.
****UPDATE 2****
Content marketing blog posts about Pokemon GO
3 content marketing lessons from the success of Pokemon Go  Brafton.com Author, Kyle Gaw Twitter
3 Pokémon GO Lessons For Social Media Marketers addthis.com Author, Christian Brink Twitter
How Pokémon Go Is Disrupting Marketing as We Know It ama.org Author, Zach Brooke Twitter
Will Pokémon GO become a marketing platform for local businesses? clickz.com Author, Al Roberts
Pokemon Go, A Marketer's Dream sugarspunmarketing.com Author, Jennifer Cario Twitter
How pokemon go might change marketing as we know it square2marketing.com Author, Mike Lieberman Twitter
***UPDATE 3***
If you are actually playing it as a game, (as well of researching as a business opportunity of course) you may want to check out these tips on playing.
There are some who say not every business can benefit from using Pokemon Go in their content marketing. But this is about attitude and your mindset. To be effective in creating great content you need to be able to look everywhere, you also need to be able to understand what drives crazes like Pokemon Go and be able to present viable content ideas that protect the brand and yet attract large numbers of the right kind of people.
Content marketing ideas for Pokemon Go:
Tesco could create an article that advises it's shoppers to play Pokemon Go with safety in mind when in their stores. Highlighting the fact that whilst Tesco wants you to have fun, they care about their shoppers.
Brewdog could produce a "No drinking whilst playing Pokemon Go beer".
An insurance website could highlight the accidents that could happen whilst playing Pokemon Go. As with the Tesco idea, highlighting that the company cares about their users and making sure the core aspects of their products are being promoted (provision against accidents).
Recruitment websites could collate stories of people spending too much time playing Pokemon Go at work and people who have resigned just to play the game. A twist could be where an employer offers Pokemon Go playing time or even an office league.
Along with the correct mindset, it's useful to consider what journalists need for their work and how you can help them. If you have an interesting story about Pokemon Go, a journalist could benefit from using it. You simply have to promote them with the right story, at the right time.
***UPDATE 4***
A pizza joint in New York, linizio.com, has been getting a lot of press mentions by dropping a lure to attract Pokemon and claims sales are up 75%. It's not the fact that sales are up, but the press attention is what is the real win. Create a sizzle and then create a narrative around that which highlights the original sizzle.
Pokémon Go is helping restaurants and bars make money
Pokémon Go Brings Real Money to Random Bars and Pizzerias
Gotta catch 'em all: Pokemon Go is boosting business for restaurants
Finding new ways to use Pokemon and then using it to get media mentions is an effective way to links and social mentions.
There are enough of these "how business is using Pokemon Go", to increase brand and revenue for it to be happening everywhere. If the next phase in the roll out of the app is to focus on getting business to optimise their locations by dropping lures and other items which we don't even know yet, then it makes a lot of sense to add this to the marketing toolbox.
We note in this article from Gizmodo that Nintendo are considering commercial tie ups with the likes of MacDonalds.
Fancy a new career as a PGO, Pokemon Go Optimiser?
it's only a matter of time before a new job is created to help business to market using Pokemon Go and other augmented reality apps which are obviously now being talked about, could Hogworts be next. A petition for such a Harry Potter game has now been created.
More Pokemon Go links:
If You're Ignoring Pokémon Go, You're Making a Huge Business MistakeBusiness owners and marketers can't afford
A useful map created by paulypresleyrealty.com, of downtown Austin, Texas. Real estate websites should approach this as a bit of fun, but also consider that it can lead to real links – such as this one – and that although a business owner may not think they are in the Pokemon Go business, they should consider that this is how marketing works online. You create and interesting bit of content and now an SEO blog in Cornwall, UK is now linking to you, adding to your Google authority and possibly giving you a bump in the rankings.
Which is a good thing.
Pokemon Go in Austin: 13 of the Best Places to Catch 'em All
***UPDATE 5***
More useful advice from content marketing bloggers.
Pokémon GO Proof Participatory Content Is A Game Changer!
Pokemon Go?—?Content Marketing Lessons For All Of Us
How Pokemon Go Is Paving the Way for Business
And news of who is making money out of this.
'Pokemon Go' could generate billions for Apple
What Pokemon Go & Snapchat Have That Angry Birds Never Did?