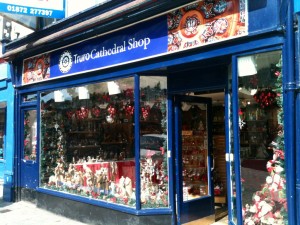 On what seems to be the hottest day in the year and has driven me from the oven that is my home office to the air conditioned coolness that is the Truro Starbucks, the Cathedral has decided to open a Christmas shop.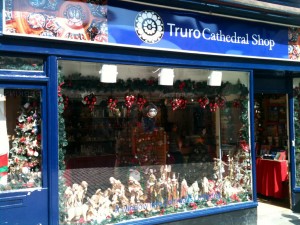 I first saw this story about 20 minutes ago on the BBC Website where it is the 4th most read story. A local newsjacking moment I thought. So quick walk in the City (more of a village really) took a few photos and spoke to the shop keep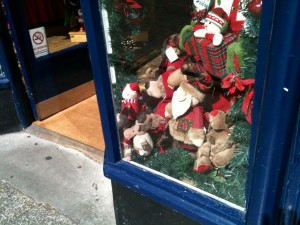 The shop was a Whittards 6 weeks ago and the Church of England bought the shop as it's so close to the Cathedral and thought lets have a shop that celebrates the birth of Christ all year long. I'm not sure they had devine advanced knowledge of the current heatwave the UK is under, but it's perfect buzz marketing.
And of course raises the issue of local newsjacking. The Sun newspaper has already visited as have a number of other outlets, so for a day or two this will be national news.
What this has to do with an SEO site, well it's helping focusing on the concept of newsjacking and the news alert service I am launching. If you happen to have a local business that has a blog, you should be looking at blogging about this story, it's possible you could add another angle to it and get some publicity yourself.
Most of the time, doing a bit of newsjacking is free and usually folds in to your current process. It takes little effort to spot a bit of news, add your own twist and then push it out into the world via your blog.
Anyway, happy Christmas and pass the suntan lotion
Note: I own copyright on the pictures and only ask you to give a web link back if you use them. Or they can be puchased for £200 each