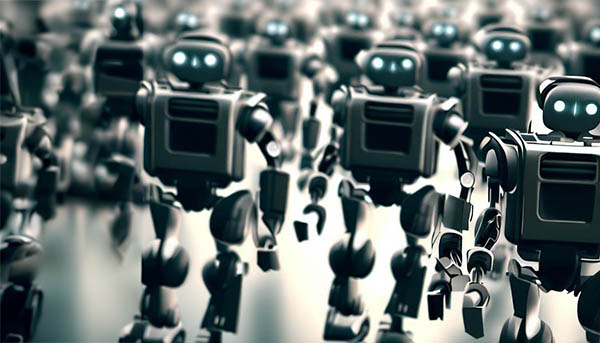 The impact of AI on SEO is huge. Even if some of the hype is just that, the impact on SEO workflow and processes will change how we work and that's not a bad thing.
The fact that SEO is mostly data-driven makes it perfect for A.I., easily bringing effective and efficient improvements to implementation. As long as we don't climb aboard the current hype wagon and understand it won't be able to do everything. Expert human supervision will be needed. An expert SEO with years of experience and knowledge will not be out of a job just yet, it simply means they can do things faster and more accurately. Realistically it means lots of boring, repetitive tasks will be gone.
Creativity will still also be needed and this is not a strong point of A.I.
Where A.I. fails is the human factor, the ability to buy another human a drink at a bar in order to get a link for example..
What are some of the things AI can do well in SEO?
We are still in the transition period workflows and processes are currently being adjusted to take advantage of this new technology.
AISEO promises quite a bit if you believe all the current blog posts and social media posts covering it right now, you would think it could make an elephant dance the mambo, whilst making a macchiato. We are still in the transition period workflows and processes are currently being adjusted to take advantage of this new technology. We still don't really know how this new tech will ultimately work and how it will ultimately improve the art of optimising websites for search.
The quick promise of SEO A.I. is to give your website a quick and easy boost, but some of the methods touted are more about creating mediocre content and may simply create an arms race of who can create the most content, rather than increasing the quality of the content and the experience of the user.
But, if Google continues to reward based on the amount of content created in the same way it may tweak the algo to boost quality more and A.I. can certainly help increase the quality of the content.
I propose not to go for the obvious of creating the same stuff, but more of it and faster. But rather, create content that is more likely to appeal to the human view and search experience. It is people after all and not an A.I. bot that reads our content and makes a purchasing decision.
Will we have bots in the future that will do our shopping for us? Possibly, correction, I should say, "probably". However, it is not the case currently. So let's still create content which appeals emotionally to people as we understand that emotions trigger more purchases than a rational, robotic mind.
AI SEO can perform the following tasks well:
Keyword Research: AI algorithms can analyse search queries and suggest relevant keywords, including long-tail and semantic variations, for optimizing content and improving search visibility.
Content Optimization: AI tools can provide recommendations for optimising on-page elements like meta tags, headings, content structure, and keyword placement to improve relevancy and user experience.
Competitor Analysis: AI-powered tools can analyse competitor websites, backlink profiles, content strategies, and rankings to identify opportunities for improvement and inform SEO strategies.
Content Generation: AI can generate content, such as product descriptions, blog posts, and social media updates, based on predefined templates and data inputs, saving time and effort in content creation.
Natural Language Processing (NLP): Analyse and understand natural language patterns, helping optimize content for voice search and conversational search queries.
User Behavior Analysis: AI algorithms can analyze user interactions, click-through rates, bounce rates, and other metrics to gain insights into user behaviour and preferences, enabling better content personalization and user experience.
Data Analysis and Insights: AI tools can analyse large amounts of data, including search rankings, website performance metrics, and user engagement data, to provide actionable insights and inform SEO strategies.
Link Building: AI can analyse backlink profiles, identify quality backlink opportunities, and provide recommendations for building authoritative and relevant links to improve search rankings.
Rank Tracking and Monitoring: AI-powered tools can track search rankings, monitor website performance, and provide real-time alerts and reports to identify any issues or opportunities for optimization.
Predictive Analytics: AI algorithms can predict future search trends, algorithm updates, and user behavior patterns, helping SEO professionals make informed decisions and stay ahead of the competition.
SEO Automation: AI can automate various SEO tasks, such as crawling and indexing, content distribution, link analysis, and technical optimizations, improving efficiency and freeing up time for strategic activities.
Continuous Learning and Adaptation: AI systems can learn from data inputs, user feedback, and search engine updates, continuously improving and adapting SEO strategies for better performance.
AI SEO Tools
AI Content Tools
Conclusion
AI SEO brings automation, data analysis, and advanced insights to optimize various aspects of search engine optimization, helping businesses improve their online visibility and attract organic traffic.
The above is simply SEO techniques and strategies that A.I. is making for efficiency and less cost. There will come a time in the near future when new A.I. techniques will be discovered by A.I.
The future is interesting.
And whilst we are here, let me give you a snippet from Bing AI when asked about SEO A.I.
"AI provides several benefits for SEO. For instance, AI helps with keyword research and search engine results page (SERP) analysis¹. AI is used in SEO to predict user behavior by analyzing the user's past searches and website visits. It can give users content recommendations that will likely be relevant to them?. AI SEO tools are available to streamline SEO optimization and boost your website's rankings. These tools can analyze your website's performance and provide solutions to areas that need improvement²."
I hope that helps. Let me know if you have any other questions.
Source: Conversation with Bing, 04/07/2023
(1) How To Use AI SEO To Improve Your Website | SEOblog.com. https://www.seoblog.com/how-to-use-ai-seo-to-improve-your-website/.
(2) AI SEO: How AI Helps You Optimize Content for Search Results. https://www.datasciencecentral.com/ai-seo-how-ai-helps-you-optimize-content-for-search-results/.
(3) 16 AI SEO Tools and How to Use AI in 2023 [New Data] – HubSpot Blog. https://blog.hubspot.com/marketing/ai-seo.
(4) AI in SEO: How Does AI Affect SEO & How to Catch Up With It? – 10Web. https://10web.io/blog/ai-in-seo/.""

What is interesting is that citations were given.
The text reads like a BORG postcard.
The spelling is in US English, even though I am querying from the UK.
Certainly enough to go on for an experienced, professional writer to polish up and with the citations it makes it very useful as a tool.
My conclusions are that A.I. currently can take on a lot of the heavy lifting, the boring stuff is you will and allows good content creators to get on with shaping the information in a ways that is interesting and useful to readers.
Note: Parts of this were created with the help of A.I. however, the juicy bits were definitely all me.
The image header was created by Bing and then dropped into Photoshop were the new A.I. feature was used to extend the image to allow it to fit the space in a more pleasing way.