I love it when people spout off, "Content is King".
It allows me to know how much brain power they have devoted to the problem of producing content that works to get people to your website and persuade them to feel good about you and your brand.
Anyone with half a brain can see that content is not King, and yet people still use the phrase.
I doubt that Millennials use it much, they know too well the value of content.
The truth is, people are king, not content.
As proved by this chart which I just made.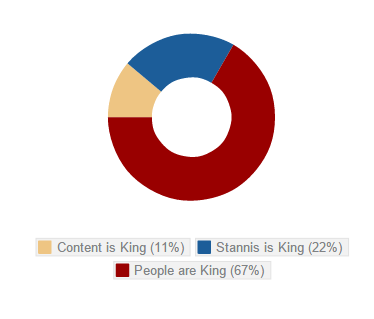 Joking aside, it's clear that it's people you need to focus on, simply churning out stuff does not work. Whenever people lay out their case for "Content is King", they always pick out the best content as an example, but most content being produced right now is going to have viewing figures in the single digits.
It's only the content that is crafted for people, rather than it's own existence is ever going to have a positive effect.
Think about the people you want to consume your content and then create the content