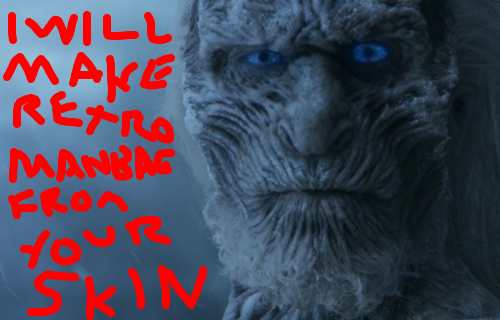 Many a time I have listened to the moaning and wailing of the Ben Sherman attired SEO, about the overuse of infographics and that they don't work anyway and that if only the new Content Marketing Manager had said yes to his 500 blog domain network over multiple "C" class ip numbers, we would have no need of the hipster design freaks and their bean bagged offices.
And of course they were right to complain, but the mistake they make is in thinking they are the audience. But there is something far more psychologically painful coming to the grumpy – bitcoin rig under his bed – SEO type, and this time it's real.
Winter is coming.
You know what I'm talking about right?
To be honest, if you are a fan of Game of Thrones, people like me are probably going to ruin it for you. Not by revealing the list of people who will die this series – as a teacher in Holland did to his class to get them to shut up – no, we are not evil. But by unleashing a wave of content marketing that has been unseen in the Kingdom of Westeros since the dark age of the Dragons….. Sorry about that, got a tad carried away, I meant since ever.
You see, the corporate marketing depts are now infested with marketing types in their early 20's, you know the sort, the kind that constantly witter on, "like yeah, cool, no worries", and have a slight twitch coming from being always worried that their 1970's retro, manbag is going to get pinched.
But they get content marketing, they grew up with it. They lived on Tumblr – before runined by Yahoo, had their first sexual experience with an avatar, think high speed broadband is a human right (actually I agree with this one). They are the ones that have been weaned on Buzzfeed/Huffpo headlines during their formative years. They love content that extends the narrative of the show, like, Game of Thrones – Get the Skills.
Of course, this does not mean they can implement/action/get things done, all you have to do to this generation is show them a shiny ball, throw it and say "go fetch ball". It only occupies them for a few minutes, but by then they have forgotten what they were doing and are now busy downloading Prisoner Cell Block H, using Pirate Bay through a Romanian proxy, whilst at work.
But these are not the people I was at first referring too, the ones who are going to ruin GOT for you. No, it's the herders of the 20 somethings, the wranglers of the Millennials, these are people who can squeeze commercially viable output from these "information is free", Spongebob Squarepants for Student Union President, types. Using a blend of psychology, foosball, and sugar addiction.
Understanding this crowd is probably more important that understanding your customer, as these are the trend setters, the leaders of the pack – apparently Seth Godin keeps one of them in a cage under his desk, helping him keep it fresh.
Once directed, this tribe will go and create industrial scale content for the Walking Dead commuters to consume on their smartphones whilst trying to ignore the body odour of the cycling nazi who is crammed up against them in a crowded train coming into Waterloo.
At first it will amuse and for those it will be aimed at – those who link – it will be fun. But for the rest of us we shall soon tire of the "20 Killer 'Game of Thrones' Items on Etsy" type content shoveled at us by the likes of Mashable. (nice find btw, Laura Vitto, and of course the Ben Sherman, shirt wearing SEO will be moaning of Twitter again, whilst setting up secret Facebook groups to mutter about Rand Fishkin.
I'm thinking the content threshold will be met before the season actually starts, the amount of link and Google juice squeezed from these low handing fruit will be more even than the juice coming from Matt Cutt's plums.
Should you hop on the bandwagon, and pump out some "10 Reasons no one flosses in Game of Thrones", type content, for your online plumbing supplies website? Probably not, you are competing against a tidal wave of content, vomited forth by zombie plague of those who eat, drink and avoid sex for this kind of stuff.
Like I said.
Winter is coming.