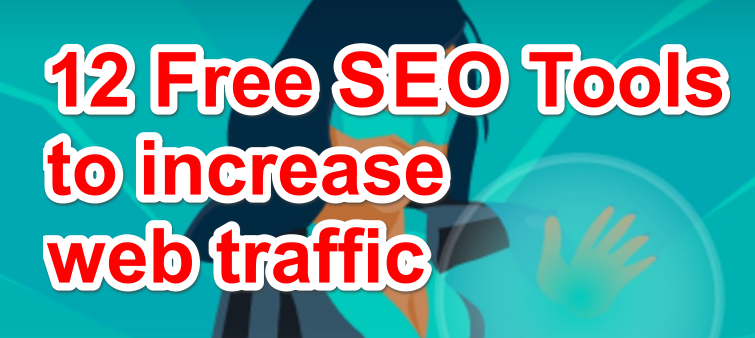 We are in the best of times when it comes to SEO tools. So many tools now exist for any SEO problem which will help build your online traffic to your website.
The great thing about all this competition from makers of SEO tools, is that a lot of tools are offered free as a form of content marketing.
The bad thing about this is that it creates lots of noise, right now there are so many offers it takes a lot of time to figure out which are the best ones for you.
So we are going to show you some of the ones we like and use. Whilst some are not strictly SEO tools they do ultimately help you with your SEO.
1. Keywordtool.io

Quick, clean keyword inspiration and data dump.
It's quick and you can download to CSV with the free tool, which can give you up to 750 keyword ideas. A quick search for "guitars" threw up keywords that are missed by Google.

I see this as being additional to the Google keyword tool and helps get a wider coverage. Getting your edge over you competitors keywords can really help, so worth trying out something new.
The paid version will give you more keywords, plus search volume etc…
Also: Check out keyworddiscovery.co.uk
2. Google Analytics

It may be an obvious one to the seasoned SEO, but newer students of SEO may not realise this is still the best, free package available. The UI is sometimes confusing to new users due to feature bloat. But once mastered there is no better free tool out there for digging into your data.
Also: Another free alternative that has the benefit of being easy to use is Clicky, which is good to use if you don't want your data gobbled up by Google.
3. Screaming Frog Spider
screamingfrog.co.uk/seo-spider

The free version of the Screaming Frog spider tool does a great job at crawling your website revealing information on webpages, links, images and other useful data.
It does have a paid option to crawl more than 500 links and lots of other features.
Also: Xenu which has been around for a long time and I still use from time to time.
4. Google Websmaster Tools
New users sometimes don't realise the fantastic free, web tools that both offer. Both allow crucial analysis to take place on the health of your website, alongside with important, error alert tools. These tools are essential for any SEO toolbag.
5. Open Site Explorer from Moz.com
SEO toolbars are great for giving you quick, visual information for the website you currently have in your browser. This one from Moz.com is particularly efficient and getting you the important data you need quickly and without fuss.
It has some little extras like a link highlighter which you can set to display "dofollow" links in a different colour to "follow links".
6. Google trends
Knowing what's hot and cold with regard to specific keywords can really boost your web traffic. Spot a hot new keyword  and you can catch the wave just right. Google trends is an excellent addition to your keyword, toolbox. You should have a trend spotting system in place which allows you to update your content output in real time.
As with all tools in this list it's free, but it's also quick, clean and gives you the ability to drill down into the detail of the keyword, with comparisons over time ranges.
7.  Similar Web
Sneak a peak at a websites statistics without them knowing
I enjoy performing competitive analysis, it's crucial to check how your website is doing compared to its competition.
Similarweb, allows you to access a number of types of data on competitor websites. I find it best use your own website as a control site to give you a fixed, data point. You do need to hand over your mobile number for verification, but it really is worth it. The tool givesyou a ton of info on web traffic, traffic sources, web content etc…
It's impossible for a tool such as this to be 100% accurate, but this is a very good attempt.
8. Check your rank for free
Fast, clean and free tool to quickly check where a keyword ranks. To get serious and track 1000's of keywords, look at a paid for tool, but as a free one this does the job.
You can compare keyword rankings with another sites, geo-target the results…etc.
It wins in simplicity by having nothing to get in the way of your task. Other tools fail because they add too many features and force you to invest time to think what to do next.
When all you want to do is check where a keyword ranks on a specific website.
9. Create an XML Sitemap
Your website absolutely needs a site map, it can be uploaded to Google Webmaster Tools and help get your content ranked.
10. Google mobile speed test
11. Robots text generator
A robot .txt file will allow you to tell search bots which page to go to and which to ignore. Usually I create them by hand but sometimes it's great to have a tool that will do the boring bits for you. The Internet Ninja Tool, from Jim Boykin's company also allows you to do A/B testing to see how different Robots handle your site.
12 Optimise your images
As we all know website load speed in vital for user experience and ranking in Google. Optimising your images to load as fast as they can is an easy win and WP-Smushit is an excellent tool to crunch your images is using WordPress.