Yesterday a free website builder called Moonfruit became the most twittered about company on the Planet.
Bigger even than Michael Jackson.
Here's how the front page of Twitter looked today.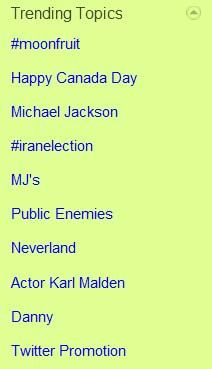 They showed how a proper Twitter marketing campaign should be run. Giving a Macbook Pro away each day for 10 days, and all you need to do is to tweet #moonfruit. It still has 9 days to run.
A lot of people don't understand Twitter, those that do reap the rewards. But it's not about replicating what has already been done, you have to throw a little imagination at the problem.
Things are moving fast.
As always.
It's no longer about getting the digg front page, that's now old school.
Now, right now. Not yesterday, but right now, it's all about the buzz.
Twitter is merely a tool as is digg. A tool to create buzz, if you don't get it, you don't get it.
The real prize these days goes to those who can capture the consciousness of millions of people. The technology enables you to do it, for only a few thousand quid you can…… well. You know the rest.
Watch out for what Moonfruit do in the future, they are a company who have the ability to do grasp the nature of what is happening and take advantage of it.
Those who get it, get it all.
😉
So far they have been mentioned in Brand Republic and Mashable, I am sure that's just the start.