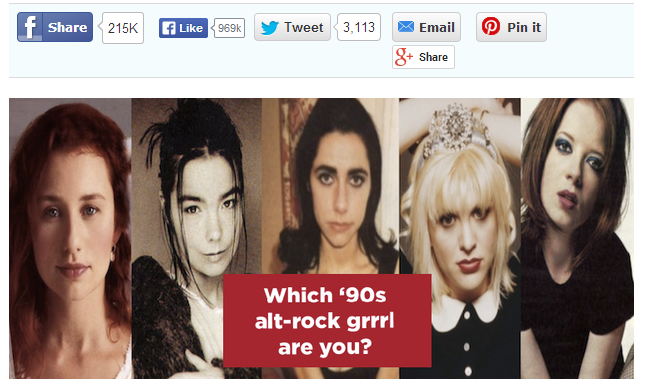 A recent Buzzfeed content piece has proved great success in getting social signals and links, Which '90s Alt-Rock Grrrl Are You?
969,000 likes on FB and counting.
Yes, any mediocre content on Buzzfeed is going to get more action that brilliant content on a mediocre website. But the huge numbers here represent that the content is brilliant.
Buzzfeed has made it's name in the field of brilliant "pop culture" content. It doesn't always produce good stuff, but you don't have to if you regularly knock it out of the field.
So what makes this work?
The celebs chosen are not current and even when at their height were not considered mainstream.
They represent what I like to call a "small footprint, but high impact theme". They may not have Global reach but the people who grew up with these artists have them deeply imprinted on their psyche.
The "personality quiz" technique, has been used for years in teen and womens' magazines and is an old staple. It requires little focused attention, is done in minutes and provides something to have a conversation about.
People need something to talk about to fill the empty void, but lets not get too existential right now.
The fact that this content requires you to only make 7 clicks, where you probably don't even read all the options and give it considered though adds to the genius of this content. As it's instinctual, it's possible that it's more accurate.
You don't have to think too hard to engage with this content, it leads you through what you have to do simply, and clearly.
It's easy to be critical of such content if you are an intellectual snob, but if you want mass results, you have to go after a mass, populist theme and present it in a way that engages and doesn't require too much attention and thought.